Budget-to-Baller Polymer80 Glock Build Guide
Looking for the ultimate Polyer80 build guide? We got you covered.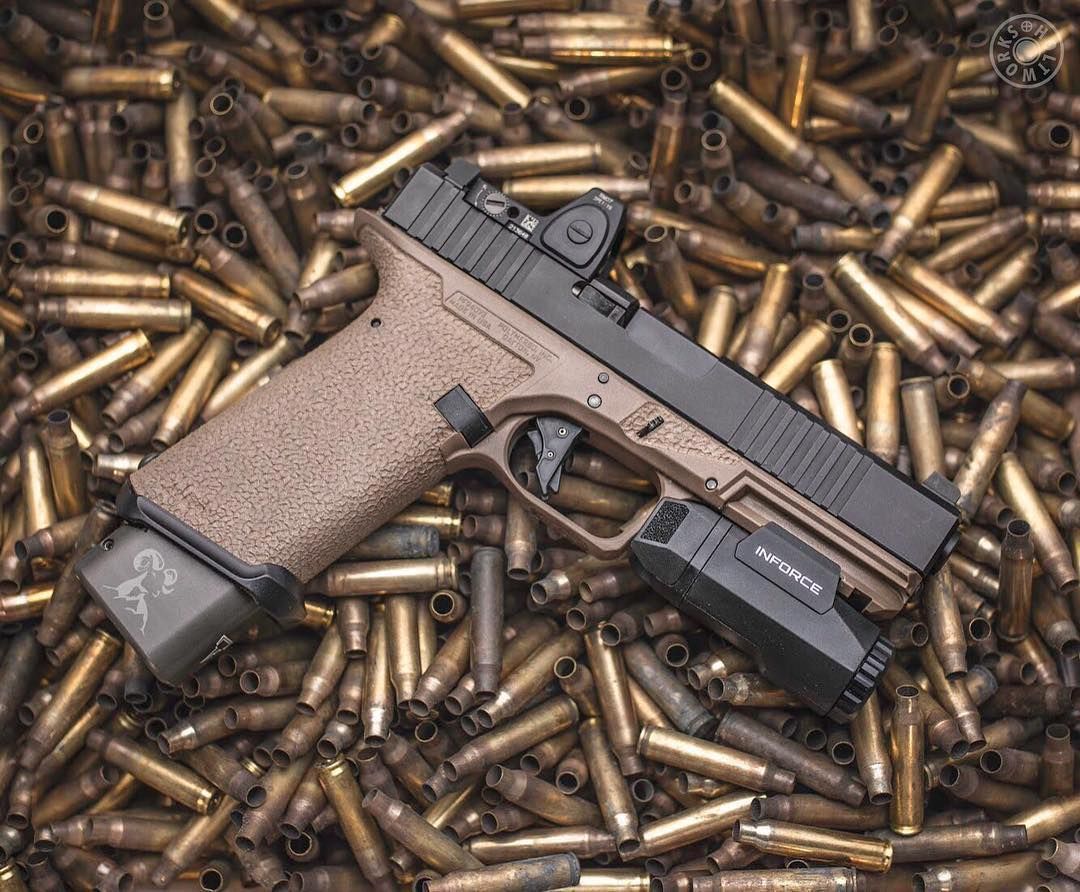 Updated: March 2021
We're about to take you through three Polymer80 build parts lists that start at budget and end at baller. There is an indefinite amount of ways to build a Polymer80 and we're here to help you build one, or on second thought we'd recommend all three.
First off, we will give you a little background on the Polymer80 if you are unaware of what they are. Polymer80 is a company that has blast into the firearm industry by storm. They produce a number of 80% build kits from pistols to AR's. We are going to cover the PF940c model which is based on the Glock 19. Polymer80 ships you an 80% lower that you then have to mill and drill to completion. The kits are relatively simple to build and can be completed with hand tools, although a drill press is recommended. The team over here at TGB has completed them with everything from hand tools, to dremels, to full-on milling with a drill press.
We won't go into too many details here on finishing the lowers. There are a number of great videos and articles posted online that go in-depth on how to complete it. We will link a few at the bottom of this post that we have found helpful.
Let's get to the parts list(s). We are going to show you every part you need to build a completed Polymer80 Glock 19.
We are going to make a note here that the PF940V2 & PF940c will also work to build a G17L, G34, G35, G22, G24 and G31. Basically, any 9mm, 40mm and .357 slide will fit on these lowers. Please refer to Polymer80.com for the full compatibility list.
Disclosure: It's important to note that the prices listed below are all current as of use writing this article (January 2020) and are possible to change.
---
Budget Parts List
Cheapest-of-the-cheap you tightwad! Alright, we're joking; but If you are looking to build a P80 with all new parts (nothing used) for as cheap as possible, this is how we would do it.
Grand Total: $562
Let's jump into why we chose these parts. The frame will be the same across all the builds. There are a variety of colors you can choose from but all are the same price. Brownells does offer an aggressive texture version that we like. It doesn't have the flashiness of a custom stippled frame but it serves the same function. We chose thePolymer80 Lower parts kit since it's the cheapest option and includes a factory trigger.
The Brownell slide is currently on sale for $139 which made it fit in nicely in the budget build. It's a solid slide that checks all the boxes for a budget build. Another option is Firearms Unknown T1 slide which is priced at $140 with no sale. Not much to say about the stock Glock slide parts. They are the cheapest and are OEM.
Update (March 2021): Looks like Firearms Unknown cranked up the price on all their parts. Their cheapest slide is now $300. Brownell's iron sight slide still appears to be the best deal out there.
As for magazines, there are a variety of options. We chose the Magpul PMAGs for this since they have a good reliability record. Another option to save a few bucks would be the KCI Gen 2 Mags which are under $10 without a sale.
Lastly, we decided on the Ameriglo combo sights since there are about as cheap as you can get for sights and still pass our quality standards.
As an alternative; if you are willing to roll the dice on a frame and slide colors, you can pick up a "Mystery Bag" from Firearms Unknown that includes a frame kit and a stripped slide (that may be pre-milled for an RMR) for $199.
This will bring the total build cost to $460. This is plenty under MSRP of a stock G19 and you could end up with a pre-milled slide if you are interested in adding a red dot down the road.
---
Mid Tier Parts List:
This is the middle of the road build. It won't win any award for being best looking, but it surpasses stock Glock components and should be just as reliable.
Optional:
Grand Total (No Optics): $729
Grand Total (w/ Optics): $908

Breakdown time. For the lower parts, we went with the Polymer80 kit minus the trigger. This freed up some funds for a drop-in trigger from Apex Tactical. The Apex trigger is highly rated and one of our favorites. For the price, it fits perfectly in our Mid Tier build.
For the barrel, we chose the Steel City Arsenal Fluted TiN barrel. This is a match-grade 416R Stainless Steel with a 1/16 match twist. It is also made right here in the USA. Honestly, you have a lot of choices for a barrel. There are a ton of excellent brands that you could swap in place if you have a favorite. The Steel City Arsenal just checked the right boxes and come in at a good price. We would also recommend Faxon Firearms, True Precision, Grey Ghost Precision, Killer Innovations, and KKM Precision to name a few.
For a slide, we decided on the Firearms Unknown T2 with the RMR cut. There are a number of good reviews floating around Reddit regarding these slides. We haven't used one yet but plan to in our next build. We paired it with the Rockey Brass enhanced parts kit which comes with heat-treated parts that have a cool amber color.
We went with suppressor height sights since the barrel we chose was threaded. Swap these out for your choice if you have no plans on adding a suppressor.
Lastly, we optionally included the SwampFox Kingslayer red dot sight. We feel this is an excellent choice of an optic for a mid-tier build. It's priced perfectly at sub $200.
---
Baller Tier Parts List:
We are going for the best-of-the-best right here. We went for all of the top-of-the-line parts that we know of. Some of these items are not required to complete the build, like the magazine extension; but since we were going for the best, why wouldn't we :)
Grand Total without Optic: $1,406
Grand Total with Optic: $1,905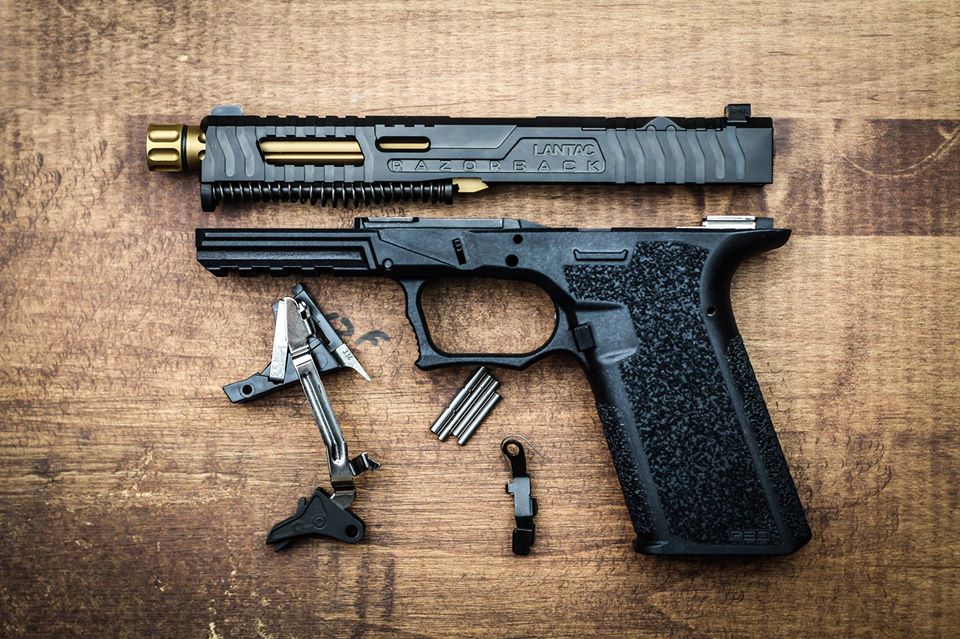 To start off our Baller build we went with the Lone Wolf lower parts kit without a trigger. Lone Wolf makes high-quality parts and this kit was ideal since we will be using an upgraded trigger. For the trigger, we decided on the Zev Pro Trigger kit. Some say aftermarket triggers are a placebo that has no effect. We tend to disagree. The Zev Pro trigger comes with their flat-faced trigger which we feel aids in flush trigger pulls to the rear. It also has their Pro connector bar which produces a lighter and crisper trigger pull and reset.
For a slide, we chose the Lantac Razorback Windowed slide which is stellar to look at for one. It's also fully assembled and includes an RMR cut, RMR cover plate, Trijicon Bright & Tough night sights, and a slew of enhanced slide parts. We would also toss in a Faxon threaded and flammed barrel in TiN.
An honorable mention here for a slide is the Weapons Armament Research Afterburner Wide Body slide. It comes in at a pricey $975 but it does come as a fully assembled slide that sports a built-in compensator.
An OEM Glock magazine paired with a Zev +5 base plate will cover all the capacity needs. A Steel City Arsenal magwell will aid in the speedy reloads and add an aesthetic touch. They offer pretty much every color you could ever want so you can color match until your heart is content.
Since we're going all out we want to add the Trijicon RM06 RMR red dot sight. This about wraps up the top-tier P80 build list. All-in-all its priced moderately well in our opinion. Some other high-end G19 builders have $2,500+ packages they offer. Building it yourself offers an extensive knowledge and learning lesson that you wouldn't get buying an off the rack built weapon. Plus it provides a sense of satisfaction that you did it on your own. It's truly yours.
However you decide to build a Polymer80, we can guarantee it will be an exciting and rewarding process. If you end up building any of the listed P80s or would build one much differently, we would love to hear about it! Drop us a comment below and we will be sure to get back to you.
---
Best Finishing Guides:
---
cover photo by: Holtworks