Olight Marauder 2
The Olight Marauder 2 is a 14,000-lumen flashlight that is roughly the size of a soda can. It most likely could summon a UFO.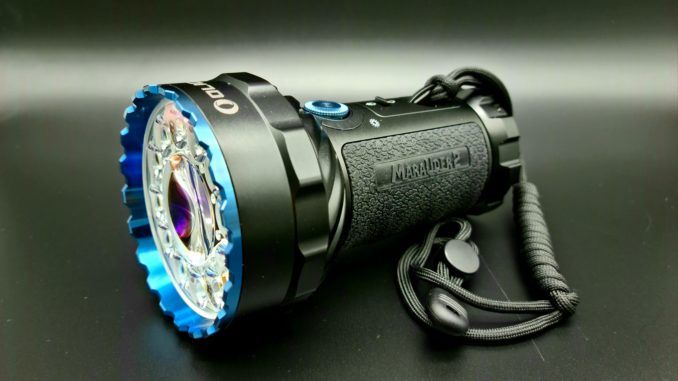 With a 14,000 lumens and a 800-meter beam distance, the Olight Marauder2 is no slouch. The Marauder 2 is a high powered handheld flashlight that can handle a number of different tasks. Equipped with 3 3.6v 5000mAh batteries, the Marauder can illuminate the night sky or be used as a standalone USB charger. The Marauder is capable of quickly switching between floodlight mode, or spotlight mode to allow you to focus those 14,000 lumens out to a distance. Need to tone down the brightness so you don't look like you are summoning a UFO? The intuitive rotary knobs allows you to quick scroll between 7 brightness levels.
With this much power, safety is a top concern. Olight includes a number of other features including a built-in proximity sensor, thermal sensor, cooling fins, impact-proof and IPX8 waterproofing to make sure everything functions as intended. Its safe to say this flashlight checks pretty much every box in the must-haves for a high powered handheld flashlight.
Buy from Amazon : $329+
Learn more or buy from Olight: $329+